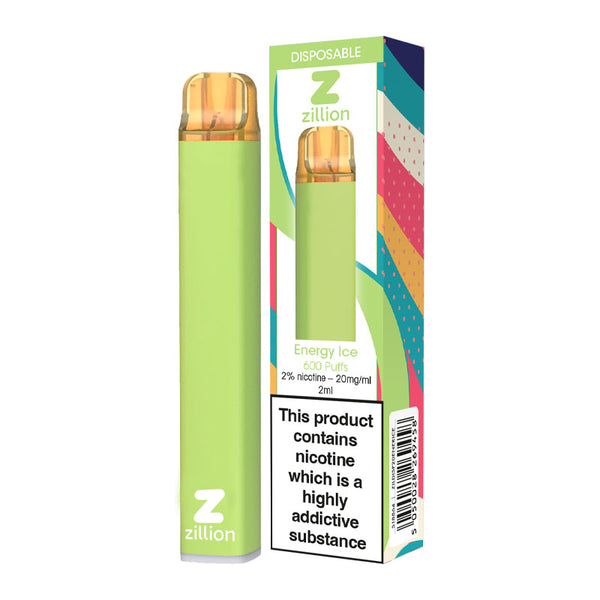 Zillion Energy Ice Disposable
Fruity, sweet and cold, this Energy Ice flavour vape pen will give your senses the wake up call they need for the day ahead.
This disposable vape pen in 20mg nicotine strength is perfect for when you're on the go or just when you fancy a lazy vape.
Fully TRPR and Trading Standards compliant, Zillion disposable vape pens are the most convenient way yet to satisfy your nicotine cravings.
Forget refilling, changing pods, charging or even clicking a button.

This pen is pre-charged, pre-filled and activated when you take a draw.
What's inside?
Standing 12cm tall, this pen is filled with 2ml of 50/50 nic salt with 20mg nicotine strength (2%). This provides a strong but smooth hit of nicotine which is absorbed by the body faster than traditional eliquid.
How long does it last?

The draw activated 500mah battery has enough power to ensure you empty the internal 2ml pod. In real-life terms, this is approximately 600 puffs depending on the strength of your draw. 
How do I use it?
It couldn't be simpler. You literally hold the top of the pen to your mouth and take a draw. That is it. When the flavour starts to fade and the vapour dries up, you'll know it's reaching empty.
What about charging/refilling?
This pen is 100% maintenance free. The only thing you need to do is take a puff.
Why would I buy a disposable vape pen?
This pen is a great option for those times when you have no access to power to charge your regular device, or for when you just want something lightweight and discreet. Think holidays, days and nights out or for just when you fancy a bit of a "lazy" vape to get your nicotine hit.