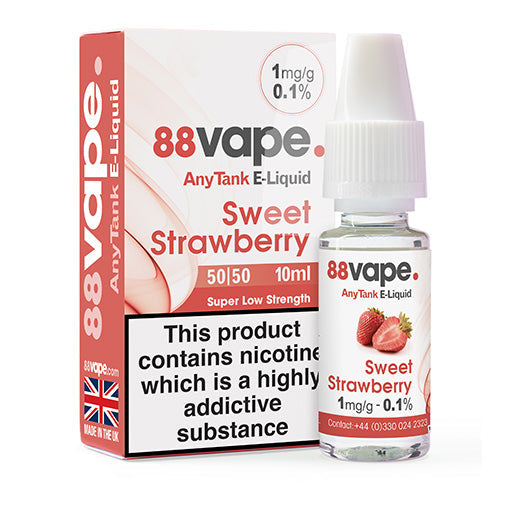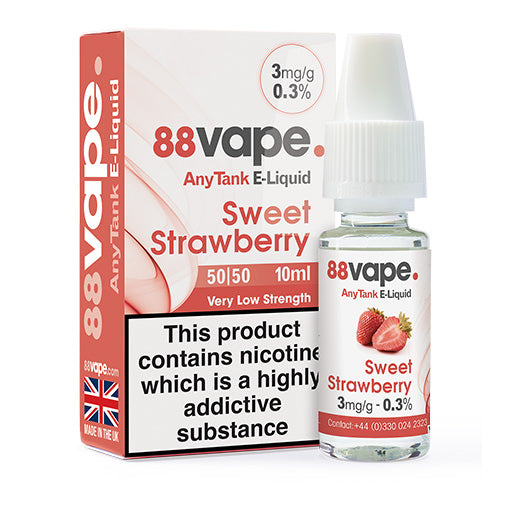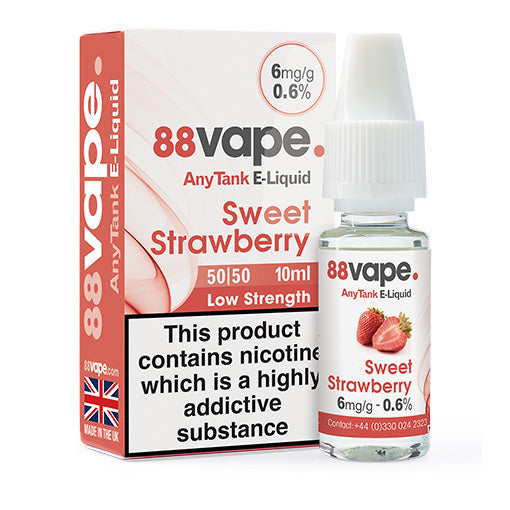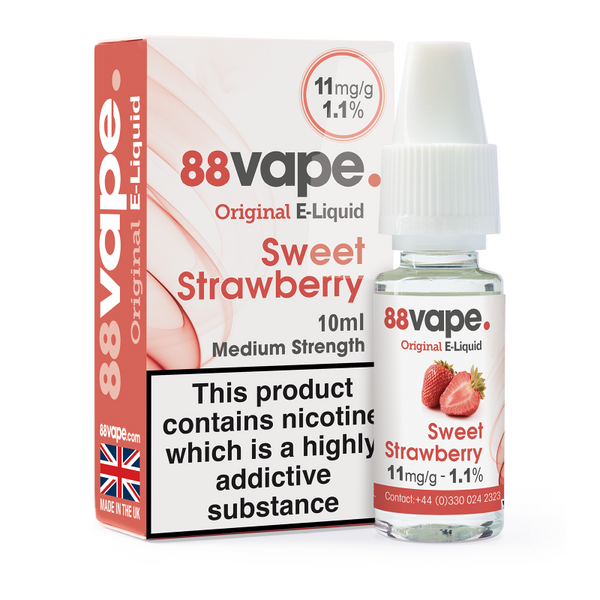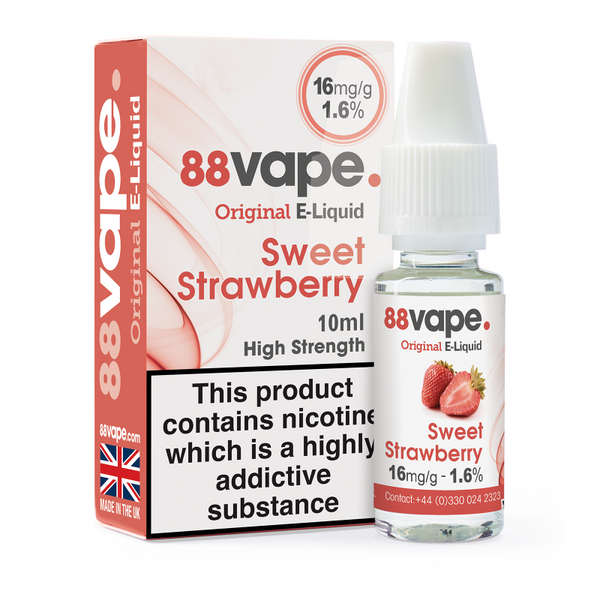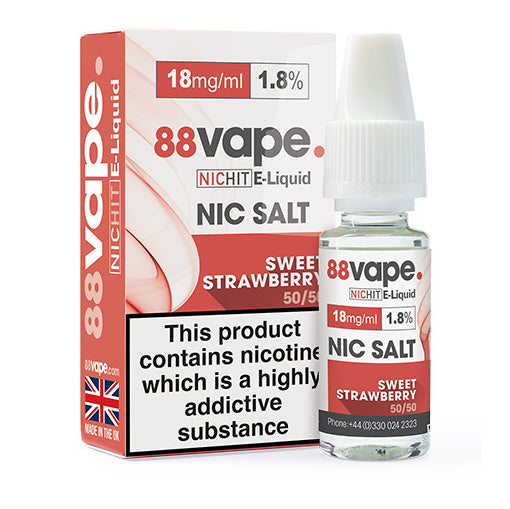 Sweet Strawberry E-Liquid
Strawberry's Britain's favourite fruit flavour, so it's no wonder that we spent so long getting the taste of our Sweet Strawberry e-liquid just right.
Perfect for strawberry lovers as a summertime vape (tennis optional) or for an after-dinner sweet hit, this strawberry vape is jam-packed with all the fruity flavours you'd expect from a high-quality liquid from one of the UK's largest vape brands!
Buy The Best Strawberry Vape Juice in a Range of Mixes
If you're looking for authentic strawberry vape juice, our range of e-liquids will tantalise your taste buds and satisfy that sweet tooth - without the calories! If you recently quit smoking, you can choose our high PG strawberry flavoured e-liquids, which are perfect if you're looking for a strong throat hit and nicotine rush.
For people who want a more subtle experience, you can choose between 3-6mg vape juices with a 50/50 PG & VG mix. Our e-liquid types are also suitable for sub-ohm vapers, who prefer a direct to lung experience with plenty of vapour.
Whether you're a fan of the sweet taste of strawberry jam or want to experiment with other e-liquid flavour groups, we're confident you'll love our strawberry range.
Love Our Strawberry Flavours? You might Like to Try These.
If you're a fan of our strawberry e-liquids, you might want to try some other fruity favourites. We have blueberry, peach, lemon and many different top vape juice flavours.
You can also take advantage of our nicotine free-range, which packs maximum flavour, and is perfect if you want to enjoy electronic cigarettes without the nicotine.
Or how about mixing it up a bit and sampling our ice range of vape juices. Imagine fruity flavours mixed with menthol freshness for the ultimate vaping experience.
Why Choose 88Vape?
We're one of the UK's premier in-house vaping manufacturers and prioritise each customer, creating a culture of honesty and commitment to providing value and quality. Whether nicotine products or vaping accessories, you can rest assured that we go above and beyond to ensure you have an incredible experience.
Free Delivery on Orders Over £15
With our low prices, you can fill up your basket and get some fantastic deals on all of our vaping products. Whether it's your first order or you shop with us regularly, you'll always get free UK delivery on orders over £15.
The Highest-Quality Vape Ingredients
We refuse to compromise on quality e-liquids, and everything we create is made from safe ingredients. Our team works hard to ensure our products are suitable before adding them to our shop, and this process means you can have confidence in our range of e-liquids and nic salt products.
Faster Checkout & Delivery Times
There are many benefits to shopping with us, and our strawberry flavour e-liquids is just one. Please create an account with us and enjoy faster checkout and delivery times. You can also earn points on your orders and use them for free purchases.
Shop With Us Today
If you'd like to sample a range of fruit flavoured e-liquids, including apple, watermelon and strawberry, you can view our complete range on the website. We also have candy, and cream themed juices, so there's something for everyone.
Shop today and enjoy the best quality vaping accessories at low prices. We promise you won't be disappointed.