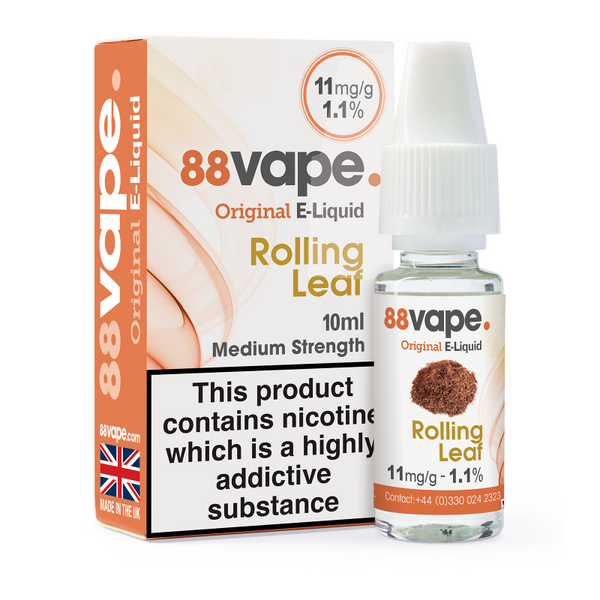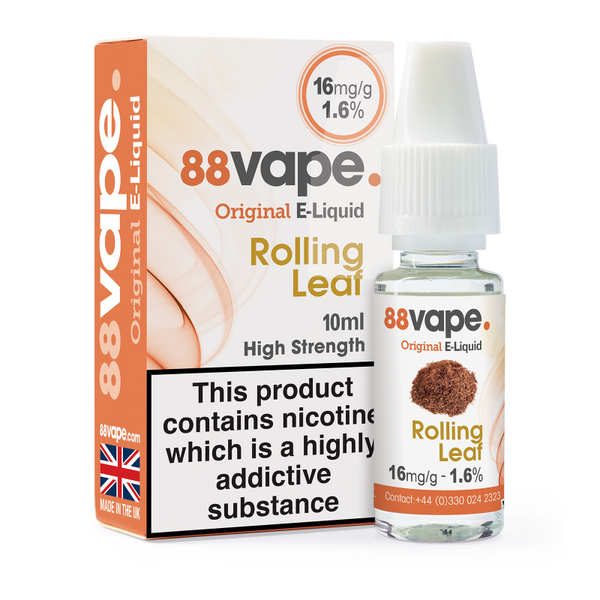 88Vape Rolling Leaf Tobacco
All the taste of a hand-rolled cigarette with none of the fiddly finger-work, this rolling leaf tobacco flavour is a firm favourite with ex-smokers looking to replicate that toasted "baccy" tang.
Full-bodied and flavoursome with none of the chemicals you'd get in an old-fashioned cigarette, this Rolling Leaf e-liquid is absolutely perfect for those looking to switch from smoking to vaping.
Rolling Leaf Tobacco E-Liquid
We have a great deal on our best-selling tobacco flavour. At just £1 a bottle, you can't lose! Vaping our woody rolling lead tobacco e-liquid removes the fiddly finger-work and potential health implications.
Instead, you can fill up and enjoy. It's that simple. If you're a fan of Virginia style tobacco, you'll love this intense flavour.
With none of the chemical substances you would find in a cigarette, this Rolling Leaf e-liquid is ideal for those looking to switch from smoking to vaping.
Spend Just £1 On a Bottle Of Our Rolling Leaf E-Liquid
Do you want to enjoy the taste of tobacco without added chemicals? Our e-liquids provide a cigarette flavour without any tar, carbon monoxide and other harmful substances.
If you have never sampled vaping products, you will be surprised to discover that they reflect the genuine flavour of tobacco and enhance it in many ways. The chemicals in cigarettes have a strong taste, but our rolling leaf tobacco flavour e-liquid is all about that woody and slightly caramelised taste.
Our team worked hard to create the perfect flavour, and the woody undertones make this an excellent e-liquid product.
Choose Between Both PG & VG Rolling Leaf E-Liquid
If you like an even mix of glycerin and propylene glycol, we strongly recommend our 1-6mg range, which offers amazing flavours, and big clouds. We also have a 70% PG e-liquid for people who prefer a more powerful throat and smoking hit and VG for those cloud chasers.
Get Free Delivery on Orders Over £15
We aim to make electric cigarettes accessible for everyone and guarantee which our products are of the highest quality and have low prices. If you're trying to find a high-quality vape liquid at discounted prices, we've got you covered.
You can expect free delivery on any UK orders over £15, and our team will work hard to dispatch your Royal Mail bundle from our headquarters located near Trafford Park. Our team guarantees quick delivery times plus the highest-quality, discreet packaging.
Love Our Rolling Leaf Tobacco Flavour E-Liquid? You'll Enjoy These Other Products.
At 88 Vape, we provide a range of top-quality e-liquids at various nicotine strengths. Whether you're trying to give up cigarettes or just enjoy vaping, our kits and liquids replicate the feeling of smoking without compromising your health and wellbeing.
Some of our most popular e-liquids include Tobacco Nut, Maidens Tobacco and Menthol Tobacco. You can also sample a range of fruit, menthol, sweet and dessert flavours. At 88Vape, we always go out of our way to please.
Save money, stock up on vape juice, and relish the convenience of shopping with a company that makes sure you receive high-quality products at affordable prices.
Shop With 88Vape Today
If you're looking for a tobacco e-liquid flavour at an excellent price, you've come to the right place. We go out of our way to ensure that every customer has the best experience with us. Our range of products is ideal for ex-smokers, seasoned vapers, and people who want to enjoy their nicotine hit - without the added chemicals.
We do our best to ship each product within one working day, and if you spend over £15, you can take advantage of free first-class delivery. If you're looking for a great price on rolling tobacco and our other flavours, fill your basket today!
If you'd like advice on the best products for your needs, please feel free to contact our team. We can help you find the nearest flavour that matches your preferences and ensure each vape kit and liquid is good value for money.