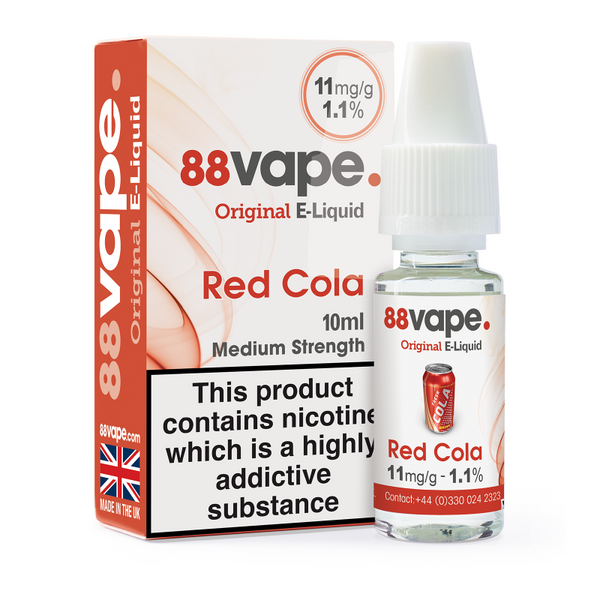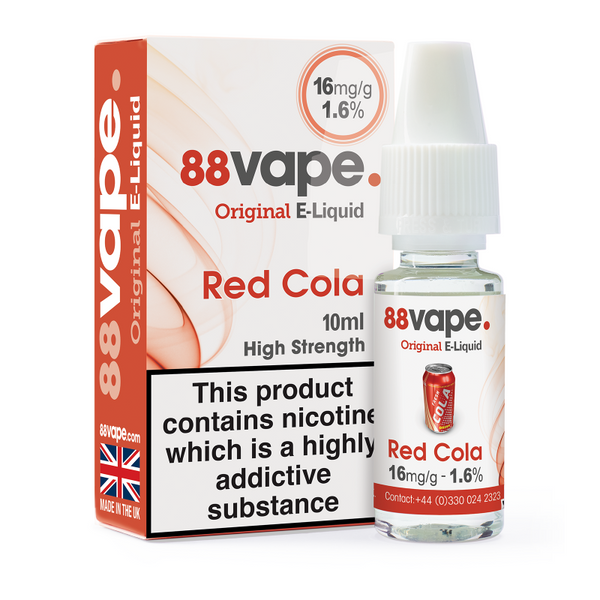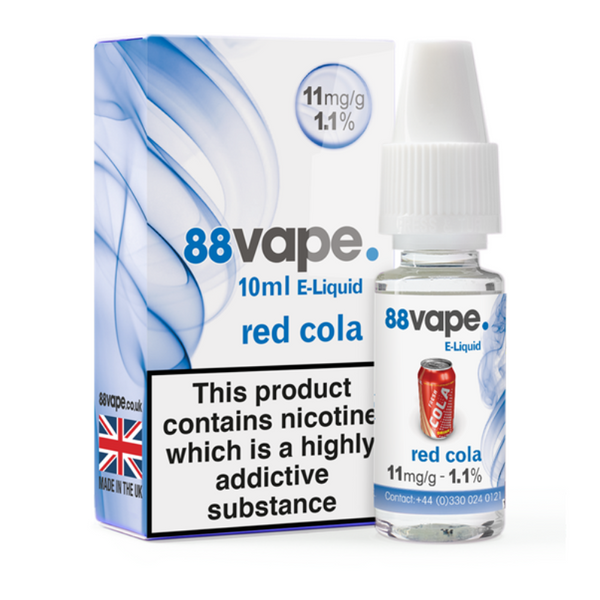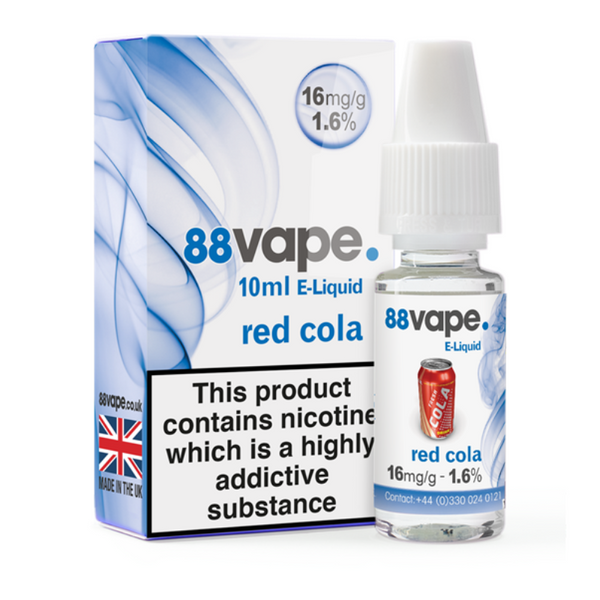 Red Cola E-Liquid
Who doesn't love a bit of fizzy pop? Somewhere between a cola bottle sweet and a cold can of the real thing, our updated formula Cola flavour e-liquid is perfect for those of us who can't resist a nice cold soda pop.
At 88Vape, we love getting creative, and this fan favourite is like digging into a pack of cola bottle sweets - without the sugar.
The best part is that this sugar-free e-liquid is far less likely to give you cavities than sipping on a two-litre bottle of cola all day. It's got all of the flavours without anything that'll make your dentist tear his hair out!
So, select your nicotine strength, wait for speedy UK delivery, then crack open a bottle of this tastebud tingling e-liquid - which comes at the great price of £1 for 10ml.
Choose Your Own Red Cola E-Liquid Mix
What better way to get your nicotine fix than with the sweet taste of cola? We offer the following mixes:
6mg 50/50 PG & VG - Ideal for vapers that want a decent nicotine fix and enjoy a smooth tasting e-liquid. The equal balance of PG & VG means you can get a slight throat hit and create some impressive clouds.
11mg 70% PG - Moderate smokers can benefit from the delicious red cola flavour and an impressive throat hit. With a 70% PG e-liquid, you can replicate the smoking experience without tar and carbon monoxide.
16mg 70% PG - If you're moving from smoking to vaping, a 16mg e-liquid will give you the nicotine hit you need.
Blended to Perfection in Manchester
Since the invention of electronic cigarettes, the team at 88Vape has dedicated themselves to providing high-quality e-liquids for low prices. We wanted to take the traditional vape juice flavours and do something different.
The red cola e-liquid is the perfect mix of those gummy sweets you could never put down and a cold can of Coca Cola. Blended, tested and tried (many times) by our vape juice connoisseurs, we're confident this juicy e-liquid will win your heart.
Excellent Service and Free Delivery on Orders Over £15
We pride ourselves on giving our customers e-liquids with a nice flavour and place convenience at the heart of everything we do. Not only do we always make sure to offer quick delivery times, but we also provide free delivery if you spend £15 or over.
If you have any questions about our cola flavoured e-liquid, please feel free to contact our friendly team.
Get Your Drink On With These Refreshing E-Liquids
Are you a fan of drink flavoured e-liquids? We have fruit twist and pink lemonade flavours that always hit the spot. Don't forget to try our Cola Ice vape juice. It has all the flavour of classic cola, with a menthol hit that takes your tastebuds to a whole new level.