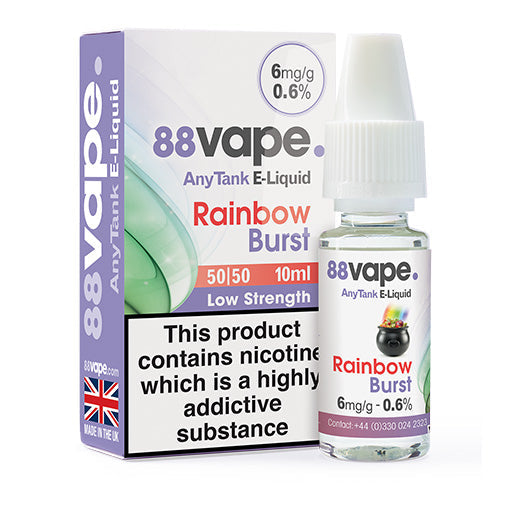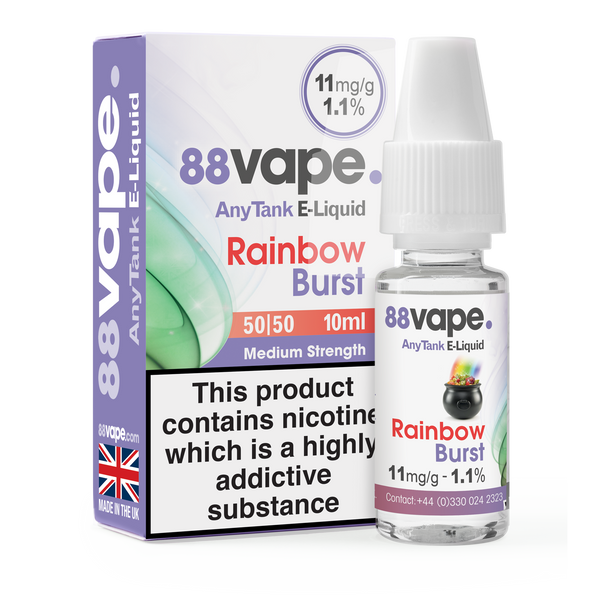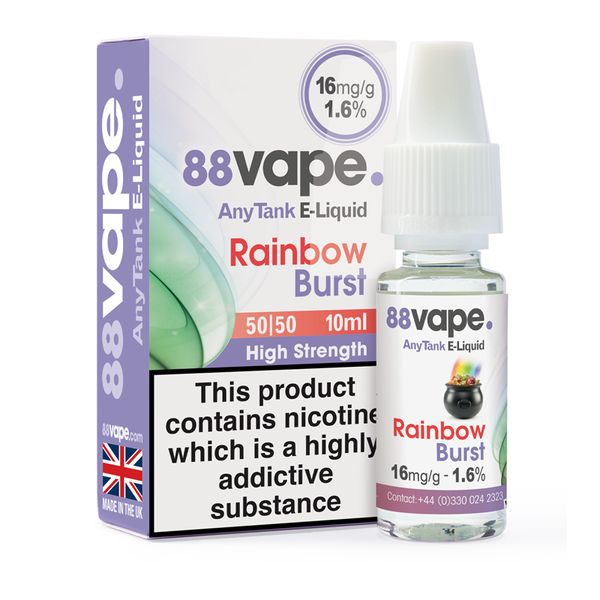 Rainbow Burst 50/50 E Liquid
Are you ready for a taste explosion like no other? Rainbow Burst is a mix of sweet fruit candy flavours which will leave you bowled over. Every mouthful of this e-liquid's vapour will fill your tastebuds with energy and your heart with joy.
Taking inspiration from Skittles, we decided to mix traditional fruit flavours to create an irresistible e-liquid. Our customers love this fruity mix, and it will take you back to your childhood.
Better still, it's got all the sweetness you could wish for, but no sugar. Forget tasting the rainbow; a hit of this vape juice is like finding a pot of gold and a dancing leprechaun!
We Make Our Rainbow Burst E-Liquid In House
Our Rainbow Burst vape juice is made in house by our team. We create everything by hand to ensure excellent quality. This particular flavour requires special attention to ensure the balance of the fruits is just right.
Tasty? Check. Sweet? Like sugar. Refreshing? It's as if each fruity ingredient has been picked straight from the tree.
We'll let you judge for yourself, but as a proven fan favourite, we're confident Rainbow Burst will be a regular feature in your vape collection.
Which Strength Is Right For Me?
Our Rainbow Burst vape juice comes in a 10ml bottle, and we offer a range of nicotine strengths:
3mg 50/50 - Smooth tasting with a low amount of nicotine.
6mg 50/50 - Perfect if you're looking for intense flavour with a subtle throat hit, this mid-level nicotine mix won't disappoint.
11mg 50/50 - Satisfy those nicotine cravings with 11mg of nicotine and a fruity explosion.
16mg 50/50 - If you're switching from smoking to vaping, our 16mg e-liquid will make the transition a lot easier.
Free UK Delivery on Orders Over £15
Our Rainbow Burst e-liquid isn't just delicious - it's also incredibly cheap! We believe in offering value for money, which is why each bottle costs £1. Not only can you stock up your vape supplies, but you can also benefit from free UK delivery if you spend £15 or over.
We'll also do our best to offer same day dispatch so that you can get your order as soon as possible.
Other Flavours You Might Love
The best thing about vaping is it opens up a world of flavours. So, if you're all about sweets, why not try our bubblegum e-liquid? Or, for the ultimate sweet treat, sample our cherry sherbet or rhubarb and custard vape juices.